Adaptation has been the key to surviving COVID-19 for many businesses across the nation. Although the restaurant industry has endured shutdowns, layoffs, and furloughs over the last few months, many owners and operators have been able to quickly readjust their business model to one in which can weather the storm. To gain more insight regarding restaurant survival during COVID-19, we took a moment to interview Shar Katz, who owns Dancing Tomato Caffè with her husband, Kevin.
Surviving COVID-19 by Shifting Focus
What felt like almost overnight, Katz and her husband had to adapt quickly to comply with government restrictions and meet consumer demands. "We decided to shut down on March 18th and furloughed 51 employees the following day. On the 20th [of March], we had the restaurant phone forwarded to my cell phone, and I took every single call," said Katz. Within a short time, the Dancing Tomato Caffè planned and executed its new business model for surviving COVID-19—starting with maximizing its menu offerings. Katz, adding, "We quickly pivoted to selling in bulk…packing in hotel half-pans." However, shortly after implementation, Katz realized many customers were hesitant to purchase meals in such large quantities. "It was overwhelming for our customers to think about buying such large portions of prepared meals, but we talked about meal planning for the week and freezer options with our patrons, so they knew what to do with such large amounts," said Katz. "We started with a meal plan pan, then became a grocerant. With the lockdown restrictions, we were trying to help folks avoid going to the grocery store while also providing options to cook less at home."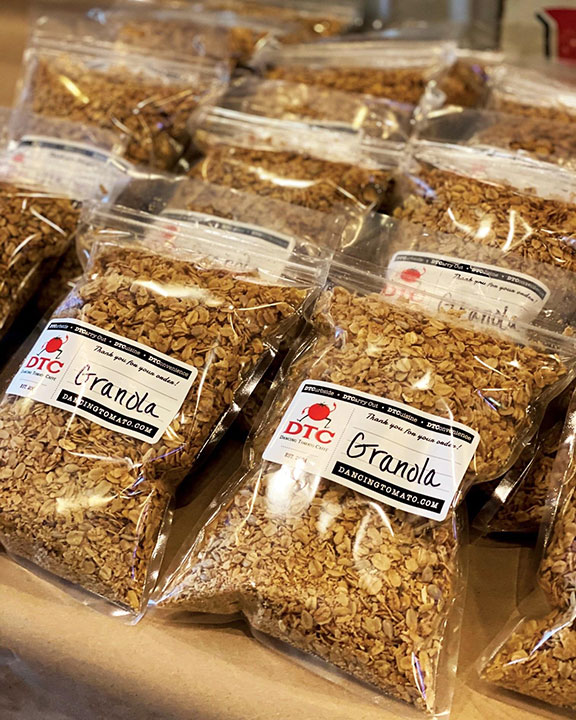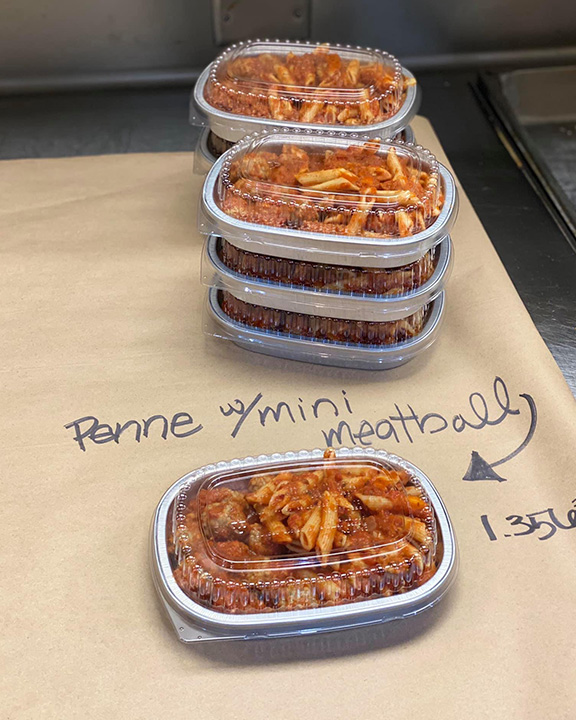 Mom and Pop of the Shop
Engaging in social media was a critical point of growth for the Dancing Tomato Caffè. "We also had to figure out social media in a better and more consistent way," said Katz. The experience she has curated on social media is heartwarming—embodying her passion and loyalty. "We are truly the mom and pop of this shop," Katz remarks. Even after an exhausting day, you can count on her "showing up" for her community. During the evenings, you can often find her outside cuddled up with (one of) her cats Smokey, and engaging with customers on Facebook Live. This shift in communication became a way for Katz to interact with customers—embracing a sense of connection and love. "Our community is so important and jumping on social was also out of necessity—it was a great chance to communicate on a regular basis to our patrons and make sure they were aware of our changes in menu and grocerant options, hours, and safety measures," said Katz.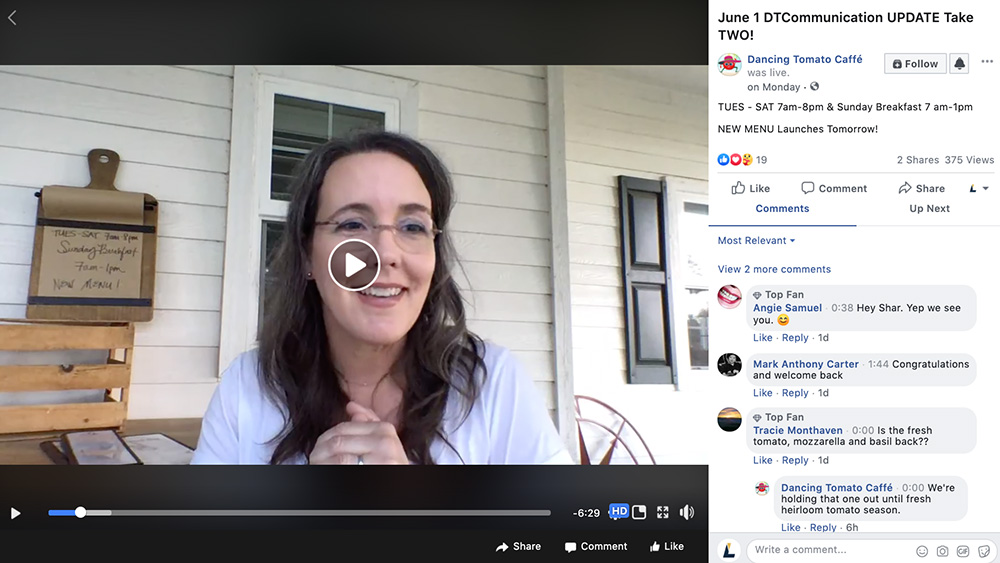 Surviving COVID-19 Challenges with Grace
When it comes to surviving COVID-19, necessity is the mother of invention. No one knows this better than Kevin and Shar. "We certainly pivoted, but we also used COVID-19 as a time to keep moving and improving. There are things (like our remodel) that we've both wanted for 16 years, and now we had a chance to really do it." In addition to remodeling their dining room and the Dancing Tomato Caffè Convenience Counter, they created a new loyalty program, upgraded their POS system, and have a custom app in the works. "Failure is not an option—we have to make it work," said Katz. Although these last few months have had its ups and downs, Katz has remained a woman of strength, perseverance, and nimbleness—having worked every day since March 18th. Through hard work and dedication, Kevin and Shar have been able to maintain focus on the bigger picture for the Dancing Tomato Caffè, and are seeing the fruits of their labor come to fruition during this challenging time. While Shar engaged in this interview, she was quick to say, "I can't take all the credit; Kevin and I really make a great team!"
About Dancing Tomato Caffè
Locally owned and operated, the Dancing Tomato Caffé is the perfect blend of good eats, community spirit, and a comfortable atmosphere. Since 2004, the Katz family has served the community of Yuba City, CA breakfast, lunch, and dinner, seven days a week. Dancing Tomato Caffé's recipes are designed with the family in mind—offering something to suit everyone's taste.
(Keep in mind that current hours of operation are limited as the staff continues to adjust to the "new norms" of business while maintaining safety protocols. Visit http://www.dancingtomato.com/ for current hours and menus.)